122 canciones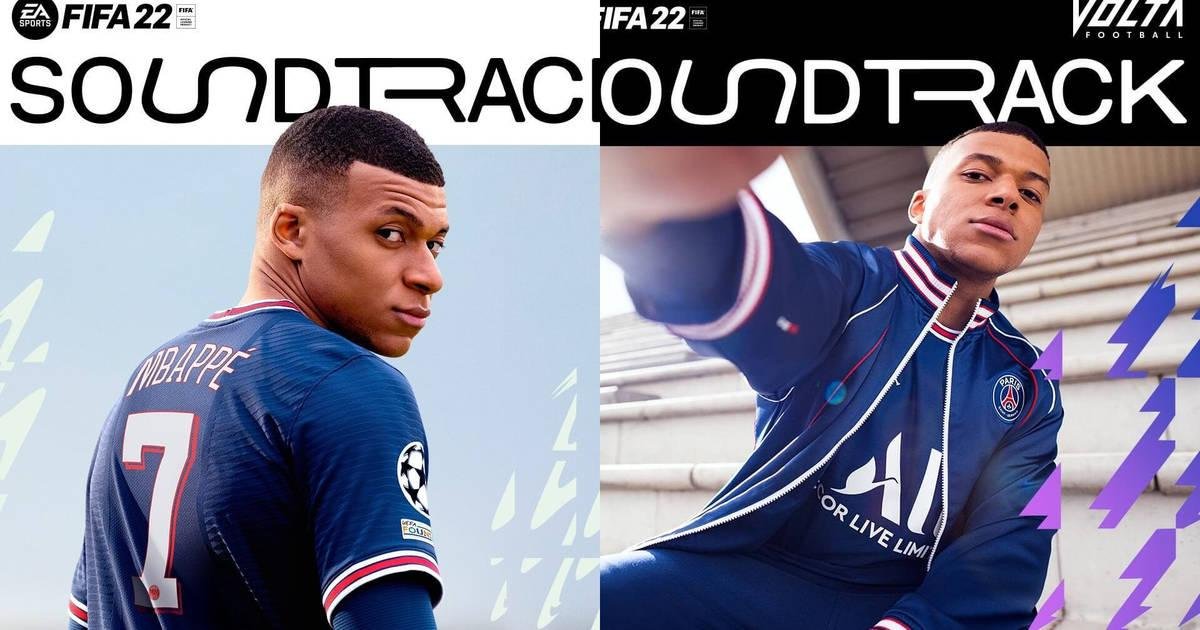 EA Sports dio a conocer el soundtrack de FIFA 22 que encontraremos en el famoso videojuego.
La banda sonora contará con 122 canciones que representan a 27 países. Por otra parte, 52 de ellas son exclusivas para el videojuego. Además, VOLTA Football contará con sus propios temas para los partidos callejeros.
🔊 Sound on for the #FIFA22 🎶 Soundtrack 🎶

Featuring 122 tracks with artists representing 27 nations.
Listen to the biggest FIFA soundtrack ever
👉 https://t.co/uWTjp1KvIA #PoweredByFootball #VOLTAFootball pic.twitter.com/kU0vokG57F

— EA SPORTS FIFA (@EASPORTSFIFA) September 20, 2021
Noticias destacadas
Banda sonora de FIFA 22
Area21 | Followers
Arrdee | Oliver Twist
Baby Queen | You Shaped Hole
Bakar | The Mission
Binki | Landline
Bloodmoon | Disarm
Caio Prado | Baobá
Casper Caan | Last Chance
Che Lingo ft. Tamaraebi | Eyes on the Prize
CHVRCHES | Good Girls
Easy Life | Skeletons
Elderbrook & Bob Moses | Inner Light
Enny | I Want
Feiertag ft. Msafiri Zawose | Trepidation
Garden City Movement (con Lola Marsh) | Summer Night
Girl in red | Apartment 402
Glass Animals | I Don't Wanna Talk (I Just Wanna Dance)
Greentea Peng ft. Simmy & Kid Cruise | Free My People
Harvey Causon | Tenfold
Hendrix Harris | The Hill
Hope Tala | Mad
Inhaler | Totally
Island | Do You Remember The Times
Joy Crookes | Feet Don't Fail Me Now
Jungle | Talk About It
Karol Conka & RDD | Subida
Kero Kero Bonito | Well Rested
Kojey Radical ft. Lex Amor | War Outside
Kokoko! | Donne Moi, Je te Donne?
Little Simz | Fear No Man
Loyle Carner | Yesterday
Luke Hemmings | Motion
Moodoïd (con Melody's Echo Chamber) | Only One Man
Moonchild Sanelly & Sad Night Dynamite | Demon
Morad | Seguimos
Musti & Jelassi ft. Gabifuego | Fuego
My Morning Jacket | Love Love Love
Pa Salieu ft. Slowthai | Glidin'
Polo & Pan ft. Channel Tres | Tunnel
Polyamory | Hallelujah
Public Order | Feels Like Summer
Sam Fender | Get You Down
Seb | Seaside_Demo
Shango SK | High Way
Sir Was | Before the Morning Comes
Swedish House Mafia ft. Ty Dolla $IGN & 070 Shake | Lifetime
Terry Presume | Act Up
The Chemical Brothers | The Darkness That You Fear
Tsha ft. Trio Da Kali | Demba
V.I.C | A Teen
Willow Kayne | Two Seater
Yard Act | The Overload
Young Franco ft. Denzel Curry & Pell | Fallin' Apart
Banda sonora Volta
84 Controller ft. Caitlyn Scarlett | U & Me
AC Slater, Darkzy & P Money | Vibes on Tap
Apollo BrownAitch ft. Avelino | Party Round my Place
AJ Tracey & Mabel | West Ten
Aluna | Body Pump (Sammy Virji Remix)
Amber Mark | Mixer (Preditah Remix)
Ares Carter ft. Charlotte Haining | Out of Lives
Armand Van Helden & Riva Starr ft. Sharlene Hector | Step it Up (Zach Witness Remix)
Ashnikko ft. Kelis | Deal With It
Baauer | GOGO!
Badmómzjay | Tu Nicht So
Big Zuu ft. D Double E | Variation
Bklava | Thinkin' Of You
Bluey | Wine It
Brockhampton ft. Danny Brown | Buzzcut
Caribou | Never Come Back
Chika | Hickory Dickory
Choomba ft. LP Giobbi & Blush'ko | Say It
Cobrah | U Know Me
Cole LC ft. Adz | Westbrook
Crush Club | Believer
Dan D'Lion | Good Times to Come
DJ Snake & Malaa | Pondicherry
DRS & Mozey | Dance the Night Away
Earthgang ft. Future | Billi
Firebeatz | Let's Get Down
Flohio | Whiplash
Headie One ft. Young T & Bugsey | Princess Cuts
Hermitude | HyperParadise (Flume Remix) [GANZ Flip]
Holy **** | Deleters (Apre Remix)
Hybrid Minds ft. Grace Grundy | Bad to Me
JAE5 ft. Skepta & Rema | Dimension
Jay Prince | In the Morning
Jimothy Lacoste | Describe a Vibe
John Newman | Love me Again (Vice Remix)
Kah-Lo | Commandments
Kent Jones ft. Rick Ross | Bout That
Keys N Krates | Brazilian Love Song
Kream | Take Control
Lice (Aesop Rock & Homeboy Sandman) | Ask Anyone
Lorde ft. Run the Jewels | Supercut (El-P Remix)
LoveLeo ft. Rico Nasty | Tung Tied
Machinedrum ft. Dawn Richard | Do It 4 U
Major Lazer ft. Sia & Labrinth | Titans (VIP Remix)
Manga Saint Hilare & Lewi B | Don't Just Sit There. Do Something.
MK XYZ | Geaux
Mr Jukes & Barney Artist ft. Kofi Stone | Check the Pulse
Neon Nights ft. Outlaw The Artist | Shining
Noisy | 24/7
Nutty P & Pav4n | Moves
NVDES | Out with a Bang
Odeal | More Life
Orang Utan | Who's Your Love
P Money & Sillencer | Doing Well
Pav4n & Kromestar | Stasis
Reve | CTRL+ALT+DELETE
RL Grime & ISOxo | Stinger
Saint Bodhi | Blessed
Seeyousoon | Ben Affleck
Shay D | Talk of the Town
Shygirl | Siren
Statik Selektah ft. Joey Bad4$$ | Watch Me
Stylolive & Los Rakas & Happy Colors | Uno 2 Tres
Terrel Hines | Otherside
The Chemical Brothers | The Darkness That You Fear
The Dirty 33 & Bobbie Johnson | Glowed Up
Verb T & Illinformed | Low Notes
Wacotron | Toothpaste
Xvoto | Brainfreeze
Yeboyah | Just Se
Ahora puedes recibir las noticias más destacadas del día. Ingresa a este link (Whatsapp – Telegram) para que no te pierdas nuestro mejor contenido.
Gráfica: vandal.com
El contenido de visionnoventa.net está protegido bajo las leyes internacionales de derecho de autor. Si requiere usar nuestro contenido, por favor contáctenos. Absténgase de usar nuestro contenido sin autorización.